Jean Ritchie & The Beauty of Kentucky
A couple years ago, I started to play old-time music casually, at the start playing guitar, while eventually learning mandolin and singing as well. There is little else that feels like completely immersing myself in an old-time jam of Appalachian folk music, playing songs older than anyone in the room until my fingers are numb and sore. Everyone has a different connection with each song, a separate story that they associate with it, and yet each song is common. At some point, everyone in old-time learns "Soldier's Joy" or "Cumberland Gap," and my individual memories of these songs briefly become part of a collective as I play it with fifteen other people.
My personal favorite song that has come out of learning old-time is "Shady Grove," my love for this Appalachian tune tied to Jean Ritchie, as I became transfixed watching her perform the song with a dulcimer on Pete Seeger's television series from the sixties, Rainbow Quest. Her voice wove around a separate melody she was playing on the dulcimer, a performance that only lasted a minute or two but was incredibly impactful.
The American folk revival wouldn't have been the same without Jean Ritchie. She shared over three hundred songs with figures such as Alan Lomax, Woody Guthrie, and Pete Seeger, effectively cementing Appalachian music in the minds of folk, country, and rock performers forever. And our archived knowledge of Appalachian, Irish, Scottish, and English folk music that we have today would be sorely lacking without the efforts of Jean Ritchie, who collected these tunes outside of singing them herself. Several months ago, I discussed Jean Ritchie briefly in my blog about Folkways Records, but for this week I'll take the opportunity to talk a little more about this influential figure in American music.
Jean Ritchie was born in 1922 in Viper, Kentucky, the youngest of fourteen children. Music was intertwined with her family's life growing up, often to accompany work, either with her father in the cornfields or her mother in the garden at home. The songs sung by the family were passed down orally and often sung unaccompanied without any instruments. "Shady Grove" was a song that captured Ritchie early in her life. Ritchie recalled that her father was a stern man, but once she reached her teenage years, he opened up a bit and began showing her the old songs he knew. One of these songs was "Shady Grove," which Ritchie would go on to perform in a variety of settings and record on multiple albums.
After high school, Ritchie attended Cumberland Junior College and then the University of Kentucky, graduating with a bachelor's degree in social work in 1946. Her career would bring her to New York City, where she started working at the Henry Street Settlement, which provided social services in the Lower East Side. Ritchie worked with children there, teaching them Appalachian songs and games. Many of the children at the Henry Street Settlement were Jewish or Italian at that time, and would frequently show Ritchie songs from their family's traditions as well.
Through her work at the Henry Street Settlement, Jean Ritchie caught the attention of the significant folk revival figures living in New York City, notably the folk music collector Alan Lomax. Lomax is known for his prolific field recordings of folk and blues musicians, including Woody Guthrie, Leadbelly, Robert Johnson, Pete Seeger, and Muddy Waters, many of which he documented during his time as Assistant in Charge of the Archive of Folk Song for the Library of Congress. After Ritchie performed a few songs for Lomax, he responded, "I want to record everything you know." Lomax didn't care that Ritchie's knowledge spanned around three hundred songs and could take a long time to record, so they began documenting the ballads and tunes from Ritchie's family history.
Due to encouragement from Lomax and the contredanse performers in the area, Jean Ritchie started to perform live in 1948. At a concert organized by Lomax at Columbia University, she met Pete Seeger, Brownie McGhee, and Woody Guthrie, who she recalled seeing for the first time: "This small, little, wiry little man with hair standing way up on his head and curls on top had jumped into the room. He started leaping around to all the microphones and blowing into them. And I said, 'Who's that crazy man?' And Alan said, 'That's Woody Guthrie.'" Not only was Ritchie meeting and working with some of the biggest drivers of the folk revival during this time, but she was becoming one of those influential figures herself.
Ritchie also met her husband, photographer George Pickow, through folk revival activities. They married in 1950, and two years later, the couple traveled to Ireland, Scotland, and England for Ritchie's Fulbright award. Ritchie won the award to study and collect Irish, Scottish, and English folk music, which many Appalachian folk songs find their roots in as well. Ritchie and Pickow were a dynamic pair of archivists, Ritchie recording folk performers such as Tommy Makem, Jeannie Robertson, and Harry Cox, while Pickow documented the events and people through photographs. Together, they produced some of the most valuable artifacts we have of this mid-century folk music scene, reproduced through the 1954 record, Field Trip, and through transcriptions and photos in her 1966 book From Fair to Fair: Folksongs of the British Isles.
1952 was a big year for Jean Ritchie, as her own recording career began that year as well with her debut album, Singing the Traditional Songs of Her Kentucky Mountain Family, released on Elektra as one of its early recordings. The record featured Ritchie performing solo vocals, accompanying herself on dulcimer, which can be heard on the popular folk song, "Black Is the Color." Numerous performers have sung renditions of this tune, including Nina Simone and Joan Baez. "Black Is the Color" is known to have two different melodies associated with it, and you can compare both versions between Jean Ritchie's and Nina Simone's. I was more familiar with the tune in Simone's version previously, but both versions are deeply effective.
While Ritchie has recorded for various record labels, some of her most essential recordings were for Folkways Records, a label devoted to folk, instructional, and field recordings. My previous post about Folkways focused on her 1960 album British Traditional Ballads in the Southern Mountains, Volume 1, which presented ballads collected by the nineteenth century English collector, Francis Child. Ritchie performed most of the songs on this record unaccompanied, such as her haunting rendition of "Barbara Allen."
Folkways released another essential record of Ritchie's, that features not her voice, but the other instrument she is well known for: the dulcimer. Specifically the Appalachian lap dulcimer, the instrument traveled to the United States in the eighteenth century. This dulcimer often has three or four strings, a fretted fingerboard (unlike a fiddle, which is fretless), and is played with a pick. While dulcimers can come in all kinds of shapes, the hourglass shape that Ritchie performs with is the most common in Kentucky, Ohio, and West Virginia. Ritchie and Pickow even had a shop that built and sold dulcimers in Brooklyn, New York.
The Appalachian Dulcimer: An Instructional Record was released in 1964. The A side of the album contains the instructional portion of the record, with Ritchie narrating how to hold, tune, and play the dulcimer, accompanied by examples. Ritchie also demonstrates the different musical modes that you can tune the dulcimer to, such as the example below of "The Mixolydian Mode," which is the same as a major scale except that the second-to-last note is lowered. "The Mixolydian Mode" shows Ritchie's fantastic, amiable and clear teaching style, in which Ritchie explains the mode, shows what the mode sounds like, and then gives an example of it in music with the tune "Goin' to Boston." The Appalachian Dulcimer came with liner notes that transcribed Ritchie's instructions so that a beginner could follow along visually along with listening. Ritchie published several books on playing the dulcimer, including The Dulcimer Book which coincides with the Folkways record. Jean Ritchie is often credited as starting "the dulcimer revival," bringing the dulcimer into the popular realm and inspiring musicians and bands such as Joni Mitchell, Fairport Convention, and Pentangle to incorporate the instrument into their work.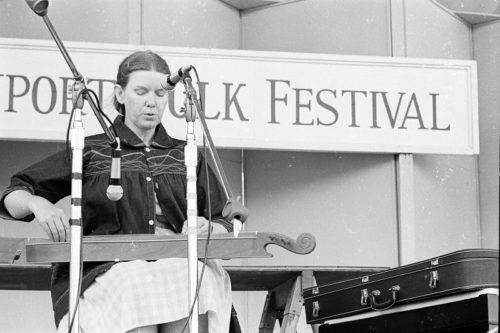 Another event that catapulted Jean Ritchie into the mainstream was the Newport Folk Festival. The festival began in 1959 in Newport, Rhode Island, highlighting performances in folk, bluegrass, gospel, and blues. From the beginning, Ritchie was on the board of the festival, and her unaccompanied performance of "Amazing Grace" at Newport Folk in 1964 stunned an already mesmerized crowd when she followed Arlo Guthrie's "Alice's Restaurant," sending a crowd of ten thousand people into utter silence. Unfortunately, I couldn't find a recording of this particular performance, but here is another gorgeous group rendition of the tune from Newport Folk, with Ritchie as part of the ensemble.
I still find myself completely in awe of Jean Ritchie's skill and accomplishments. A musician, an author, a researcher, a teacher, and so much more, she helped bring the beauty of eastern Kentucky and Appalachia to the fore, and preserved aspects of the history of folk music that we should never take for granted.
We recently got in copies of two cassettes that are great primers to Jean Ritchie's recordings, Music Of and At Home. I encourage you to explore Jean Ritchie's prolific work further, and I've linked to many of her records and books below. I also highly recommend watching the hour-long 1996 documentary, Mountain Born: The Jean Ritchie Story, a KET produced film that is now available via PBS. Through interviews, Ritchie practically narrates this documentary that also presents rare footage and photographs. Also, the Smithsonian Folkways website contains fantastic resources about each of her records on the label, including PDFs of the liner notes for each and links to purchase CD or digital copies of the albums.
Resources
Karen L. Carter-Schwendler,
"Mountain Born: The Jean Ritchie Story,"
KET Education
Encore Presentation: Mountain Born: The Jean Ritchie Story
,
PBS
(1996)
Paul Mercer,
"'Manhattoes is a Strange Isle': Jean Ritchie in New York,"
New York State Library
(2016)
Jean Metcalfe,
"A Conversation with Jean Ritchie,"
Louisville Music News
(1992)
"Sound Sessions Radio – Jean Ritchie,"
Smithsonian Folkways
Stephen Winick,
"Jean Ritchie, 1922-2015,"
Library of Congress
(2015)
Selection of Jean Ritchie's Books
Jean Ritchie, Singing Family of the Cumberlands (1955)
Jean Ritchie, The Dulcimer Book (1963)
Jean Ritchie, Apple Seeds & Soda Straws (1965)
Jean Ritchie, From Fair to Fair (1966)
Jean Ritchie, Jean Ritchie's Dulcimer People (1975)
Jean Ritchie's Folkways Recordings
Jean Ritchie, Children's Songs and Games from the Southern Mountains (1957)
The Ritchie Family, The Ritchie Family of Kentucky (1958)
Jean Ritchie, Oscar Brand & David Sear, A Folk Concert in Town Hall, New York (1959)
Jean Ritchie, British Traditional Ballads in the Southern Mountains, Volume 1 (1960)
Jean Ritchie, British Traditional Ballads in the Southern Mountains, Volume 2 (1960)
Jean Ritchie, Ballads from her Appalachian Family Tradition (1961)
Jean Ritchie, Precious Memories (1962)
Jean Ritchie & Doc Watson, Jean Ritchie and Doc Watson at Folk City (1963)
Jean Ritchie, The Appalachian Dulcimer: An Instructional Record (1964)
Jean Ritchie, Marching Across The Green Grass and Other American Children's Game Songs (1968)
In Stock
Jean Ritchie, At Home
Jean Ritchie, Music Of
Interested in more folk and country?
– Hannah Blanchette
---
July 3, 2022 | News