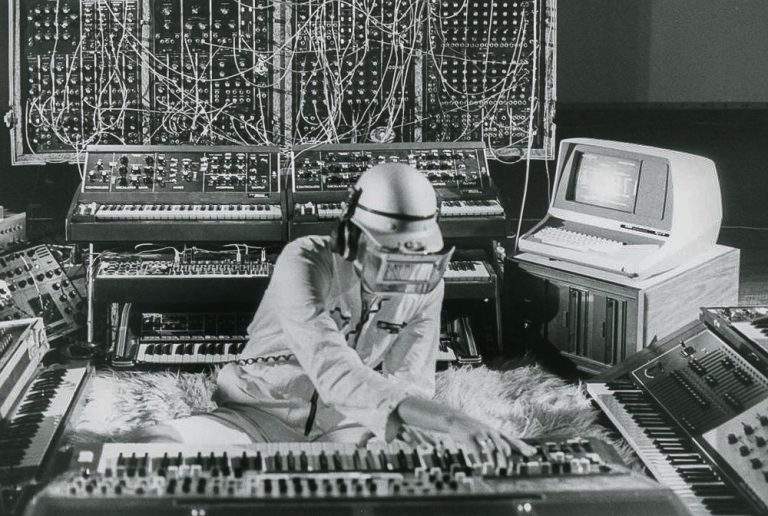 "Forever Experimenting": Celebrating Klaus Schulze
A few days ago, the pioneering electronic composer Klaus Schulze passed away at the age of 74. Many have called him the "godfather of techno," his Berlin School techniques revolutionizing so many genres of electronic music to come after him. Schulze didn't consider himself a pioneer throughout his decades of compositions. He told Keyboard, "I was just playing my music, forever experimenting, following the inspirations and discoveries, and seeing where it took me on the journey." This week, we take a look at a few points on this journey, paying tribute to Schulze's life and forever influential career.
Schulze was born in Berlin in 1947, and his musical career began there as well. He was inspired to begin playing drums because of his brother, who introduced him to figures like Buddy Rich and Art Blakey. Schulze played drums and guitar in various bands around the city from the early 1960s until the middle of the decade. Many of these bands had a garage rock style at the time, but Schulze brought an experimental approach to the table. He played the guitar on the ground using materials like copper plates, metal tubes, anything he could use to create a unique sound from the instrument. For him, crafting sounds was more intriguing than specific notes or harmonies. Berlin as a city also influenced his experimental attitude. He said, "we had the wall all around Berlin, so there was a pretty 'private' vibe at the time. From there our music spread out, but at the same time we were kind of isolated from the rest of the world. Later, when the wall fell, of course, that changed. I guess that certain isolation-vibe brought us together, on one hand, but gave us an equalized surrounding on the other. And it may have fueled the urge to experiment, break free, and explore new musical grounds."
His skills as a drummer would bring him to his brief stint in the electronic band Tangerine Dream in its earliest form. Schulze provided drums, percussion, and "metal sticks" to their 1970 debut album, Electronic Meditation. Although Schulze enjoyed playing drums, he wished to explore other types of sound and musical material. However, founder Edgar Froese wanted him as a member of Tangerine Dream strictly as a drummer, so Schulze left in pursuit of these new experiments he was concocting.
Not long after he parted ways with Tangerine Dream, Schulze formed the band Ash Ra Tempel with Manuel Göttsching and Hartmut Enke, which brought him closer to his visions with their space rock sound akin to Hawkwind and Pink Floyd. In 1972, Schulze embarked on the most prolific part of his journey: his solo career, which spans more than fifty albums. His first solo album, Irrlicht, didn't even use a synthesizer since they were still so expensive at that time. Regardless, the record is considered an influential record for electronic music. Irrlicht includes an electric organ and a manipulated, cheap tape recording Schulze made of a student string orchestra at a local university. The result is haunting, otherworldly drones with layers and layers of tiny movements within the texture to pick up on. For me, the sound is near apocalyptic, as the orchestra sounds like it's piped through a tinny speaker in a desolate place.
For his subsequent record, Cyborg (1973), Schulze adopted the VCS 3 synthesizer as his first synth. Cyborg can be heard as an early form of ambient music, such as the first track's reverberating, sparse melodies over a drone. Schulze returned to the VCS 3 for a few of his later works as well, such as Moondawn (1976), Mirage (1977), and X, (1978). Over time, Schulze would collect a massive cohort of synthesizers, electronic instruments, and in more recent decades, computer software to create his compositions.
Aside from Schulze's grand solo output under his own name, he also worked under the name Richard Wahnfried with his previous Ash Ra Tempel collaborator, guitarist Manuel Göttsching. Furthermore, he wrote the music for the Body Love (1978) soundtrack with a style that was ahead of its time, prescient of 90s techno motifs and techniques.
Schulze's upcoming record, Deus Arrakis, had been set for release on June 10, with the single "Osiris – Pt. 1" available now. As he stated in the quote above, Schulze was "forever experimenting," continuing to create new records and sounds to this very moment. With such an output, it is impossible to summarize here everything he has done and how much his life and work mean to musicians spanning decades. Listen and listen again to his work, read the interviews below, and let his legacy continue on.
Products
Ash Ra Tempel – Schwingungen – $30
Tangerine Dream – Electronic Meditation (Orange Vinyl) – $36
We also have a lot of used copies of Klaus Schulze's solo work and collaborative work available in-store! Stop by and look for these titles:
LPs
Klaus Schulze – Blackdance – $20
Klaus Schulze – Body Love: Additions to the Original Soundtrack – $12
Klaus Schulze – Timewind (Japanese Pressing) – $48
Richard Wahnfried – Tonwelle (Klaus Schulze & Manuel Göttsching, etc) – $24
CDs
Michael Shrieve With Kevin Shrieve And Klaus Schulze – Transfer Station Blue – $8
Klaus Schulze – Ballett 1 & 2 – $20
Klaus Schulze – Ballett 3 & 4 – $20
Klaus Schulze & Solar Moon – Ultimate Docking 2CD – $12
Klaus Schulze & Solar Moon – Ultimate Docking – $14
Resources
Madison Bloom, "Klaus Schulze, Trailblazing Electronic Composer, Dies at 74," Pitchfork (2022)
Jason Gross, "Klaus Schulze," Perfect Sound Forever (1997)
"Interview with Klaus Schulze," Klaus Schulze: The Official Website (2015)
Alexis Petridis, "Drumming, Drones and Drifting Bliss: 10 of Klaus Schulze's Greatest Recordings," The Guardian (2022)
Paul Tingen, "Klaus Schulze: Digital To Analogue Conversion," Sound on Sound (1996)
Geary Yelton, "Catching up with Klaus Schulze," Keyboard (2018)
– Hannah Blanchette
---
May 1, 2022 | News