The Story of The Finest In Jazz: Blue Note Records From 1939 To Today
It is impossible to imagine a history of jazz without Blue Note Records. Hip and innovative, Blue Note's slogan of "the finest in jazz since 1939" has rang true across decades, especially in the fifties and sixties when their contributions pushed the jazz tradition into new directions with every release. Their albums also featured some of the most iconic cover art in recorded sound, period. We recently restocked our jazz section with tons of Blue Note albums from their various reissue series. View the album covers nice and big on our site or in the shop, grab a Blue Note release to hear mind-bending jazz, and read on below to travel through the history of the finest in jazz since 1939.
Blue Note Records was founded in 1939 by German Jewish immigrants Alfred Lion and Francis Wolff, who were friends since childhood. Both individuals were escaping Nazi occupation of Germany when they fled to the United States in 1936. They carried their love of jazz with them to the US and began seeking out ways to release two styles of jazz: hot jazz and swing. Swing was a particularly popular style of jazz in the thirties and forties, which featured large ensembles of brass, clarinets & saxophones, and rhythm sections, and can be heard in the music of bandleaders such as Duke Ellington, Cab Calloway, and Count Basie. Lion and Wolff sought out swing acts for their label, with their mission statement saying they wished to "serve the uncompromising expressions of hot jazz, or swing."
Their first record reflected this mission statement, which was a 78 rpm single of the boogie-woogie pianists Meade "Lux" Lewis and Albert Ammons. Blue Note's first hit would come later in 1939 with soprano saxophonist Sidney Bechet's version of "Summertime" from Gershwin's Porgy & Bess. Knowing about Blue Note's influential history in modern jazz, it can be surprising to hear how different their early output was from what they eventually put out in the fifties and sixties.
This shift began to happen when Blue Note signed newcomer Thelonious Monk (right) to their roster in 1947, whose piano style was unlike anything they had heard before. Monk's melodies and harmonies were odd for the time, dissonant, and his 1951 Blue Note release The Genius of Modern Music, Volume 1 was a catalyst for the path of modern jazz, especially on Blue Note. Despite Monk's historical significance, his records did not sell well initially because of the fresh and unorthodox techniques, harmonies, and melodies he used, causing the label financial troubles.
Regardless, Blue Note hit its stride in the fifties and sixties, becoming the driving force of modern jazz. Part of Blue Note's success was the hip aesthetic that they created through a solid team of individuals that contributed to the overall package of a Blue Note release. In her dissertation, "'No Room For Squares': The Hip and Modern Image of Blue Note Records, 1954-1967," Alisa White described how Blue Note achieved this image through minimalist design, liner notes that positioned their releases as fresh and new while also part of a historical lineage, and highlighting the most innovative jazz of the day.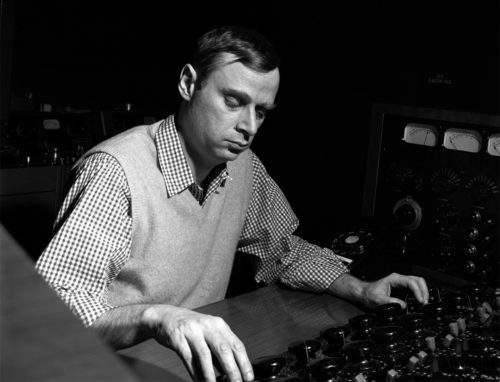 The Blue Note team from the fifties and sixties included optometrist-by-day Rudy Van Gelder (left) as recording engineer, who brought a distinctive warmth to Blue Note recordings. Along with founder Alfred Lion, Van Gelder was deeply involved in the recording process. British DJ Dean Rudland stated, "He engineered so many important sessions, in a studio that he had built himself, and nurtured those sessions from the setting up of the mics to the cutting of the lacquer."
Two other essential contributors to Blue Note's image were Francis Wolff as photographer and Reid Miles' cover design, who both gave Blue Note releases their iconic cover art from 1956-1967. Wolff had a knack for selecting a photo one wouldn't expect from the contact sheet for the cover, and then framing the shot in a creative way. Miles would then step in with bold colors and eye-catching fonts, positioning the cover text in idiosyncratic ways. Bottom line, Blue Note albums looked as cool as they sounded.
During the fifties, Blue Note released records that innovated styles of jazz such as hard bop and soul jazz, signing and releasing artists such as Art Blakey, Sonny Rollins, Jimmy Smith, Clifford Brown, J.J. Johnson, Horace Silver, and Herbie Nichols. Bebop, the predecessor of hard bop and soul jazz, pushed jazz towards more complex chord progressions, higher levels of technical virtuosity, and faster tempos. Artists on Blue Note took these elements and then expanded the influences on the musical style, bringing in characteristics from blues, R&B, soul, gospel. One of the most iconic Blue Note albums to come out of this era was John Coltrane's (right) Blue Train (1958), despite it being his only record as leader on the label. At the time, Coltrane had a deal with Prestige, who allowed him to record one album for Blue Note. Four of the five tracks were Coltrane originals, and the record displayed his growing virtuosity as a tenor saxophonist.
During the transition from the fifties to the sixties, Blue Note also played a role in the development of avant-garde and free jazz, releasing albums by artists like Ornette Coleman, Cecil Taylor, Don Cherry, Eric Dolphy, and Grachan Moncur III. Like Coltrane, Eric Dolphy only recorded one album as leader on Blue Note, 1964's Out to Lunch!, but this one record is still revered as a shining example of avant-garde jazz of this time period. Dolphy expanded the woodwind palette on Out to Lunch!, including not only saxophone but also flute and bass clarinet. His off-kilter solos wrap around uneven time signatures, challenging listeners to this day.
The mid-sixties brought about a lot of change for Blue Note Records, including being bought by the major label Liberty Records in 1965. Alfred Lion stepped down from his role on the label during this period, and Francis Wolff passed away. The label was taken over by CEO George Butler in 1972, and a new era was in motion. Rock, pop, and soul were dominating the mainstream industry at the time, and Blue Note sought out acts that could bridge the gap between these genres and jazz. They started steering away from solely acoustic jazz and embracing electric artists who combined elements of jazz, R&B, funk, and disco, releasing artists like Bobby Hutcherson, Grant Green, Bobbi Humphrey, and Donald Byrd (left).
The latter two were at the forefront of jazz funk in the seventies, with trumpeter Donald Byrd's Black Byrd from 1973 as a landmark jazz funk album, although it received scathing reviews from jazz critics at the time. Flutist Bobbi Humphrey was the first African American female instrumentalist signed to Blue Note, and her 1973 record Blacks and Blues also utilized the talents of Black Byrd producer, Larry Mizell. Humphrey exemplified jazz funk's laid-back virtuosity, stating of her time recording the album, "They would play the track in the background and just tell me to play to it. There was no written melody. I just played what I felt off the top of my head against that." Blacks and Blues has also stood the test of time as an essential jazz funk album that has experienced heavy sampling in hip-hop through artists such as DJ Jazzy Jeff And The Fresh Prince, Eric B And Rakim, and Ice-T.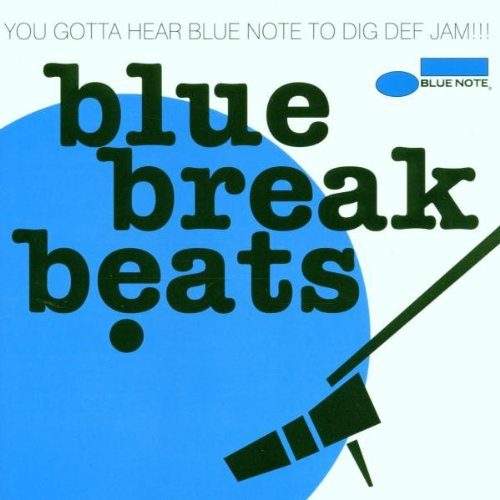 Despite the success of these records, Blue Note went dormant for a period in the eighties, revived in the middle of the decade when Bruce Lundvall stepped in as CEO. This period focused on reissues and recordings of previously unreleased material, bringing Blue Note back to the fore. They also started a successful series in the nineties, Blue Break Beats, which featured tracks from Blue Note's catalog that were sampled and/or remixed by other artists. Then in the early 2000s, Blue Note released one of their highest-selling records ever in the label's history, Norah Jones' debut album Come Away With Me, which as of 2016 had sold over 27 million copies across the globe. A vocal jazz record which also featured blues and folk influences, the record also won six Grammys, including Album of the Year.
The 2010s saw another period of genre-blending akin to the seventies, with artists such as Robert Glasper, who brought together elements of jazz, neo-soul, R&B, and hip-hop into his music. His Blue Note release, Black Radio, from 2012 exemplifies this and contained incredible features from standout figures in R&B, neo-soul, and hip-hop, including Erykah Badu, Meshell Ndgeocello, Shafiq Husayn, Lalah Hathaway, and Ledisi. Black Radio also gained Blue Note another Grammy win, this time for Best R&B Album.
In recent Blue Note news, the label has launched an imprint, Blue Note Africa, which will highlight jazz from artists across Africa, starting off with the new album by South African pianist/composer Nduduzo Makhathini, titled In the Spirit of Ntu. Eric Alper makes a fantastic point in his article about how essential African artists and influence has been to the development of jazz as a genre, especially for Blue Note artists like Art Blakey and McCoy Tyner. He discusses how Art Blakey's travels to Ghana and Nigeria influenced a few of his records such as The African Beat (1962), which featured the Nigerian drummer Solomon Ilori, who would eventually also release on Blue Note. It only seems fitting for the history of the label to have a space for jazz from Africa to distribute easily in the United States.
The story of Blue Note Records is not finished, with many more iconic releases in its future. I encourage you to check out the resources below for a deeper dive into what Blue Note has to offer, and especially take a look at Richard Cook's Blue Note Records biography and the documentary, Blue Note Records: Beyond the Notes, both of which are linked to Cincinnati Public Library records so you can borrow them at your leisure.
Resources
Blue Note Records official website
Blue Note Records: Beyond the Notes documentary website
Eric Alper, "Blue Note Records And Universal Music Group Africa Announce The Creation Of A New Imprint Blue Note Africa," That Eric Alper (2022)
Blue Note Records: Beyond the Notes (2019)
Charles, "A History of Blue Note Records, HMV Celebrates the Iconic Jazz Label…," HMV (2020)
Richard Cook, Blue Note Records: The Biography (2003)
"Dr. Ruth Lion," NAMM (2003)
Evan Haga, "The History of Blue Note," TIDAL (2019)
Robin Kinross, "Cool, Clear, Collected," Eye Magazine (1990)
LondonJazzCollector, "Blue Note Records: Complete Guide To The Blue Note Labels," LondonJazzCollector (2022)
Chris May, "Blue Note Records: Lost In Space: 20 Overlooked Classic Albums," All About Jazz (2020)
"Out to Lunch with Eric Dolphy," Blue Note (2013)
Giovanni Russonello, "Blue Note Records at 80: Can a Symbol of Jazz's Past Help Shape Its Future?," The New York Times (2019)
Debra Scherer, "Blue Note Records," The Culture Crush
Anton Spice, "Blue Note Changed My Life: 16 Artists Pick Their Favourite Blue Note Records of All Time," The Vinyl Factory (2014)
Charles Waring, "'Blacks And Blues': Bobbi Humphrey's Sample-Friendly Jazz-Funk Classic," UDiscover Music (2022)
Products
Art Blakey & The Jazz Messengers – Buhaina's Delight – $26
Art Blakey & the Jazz Messengers – Meet You At the Jazz Corner of the World (Volume One) – $26
Art Blakey & the Jazz Messengers – Meet You At the Jazz Corner of the World (Volume Two) – $26
Kenny Cox – Introducing Kenny Cox – $26
Eric Dolphy – Out To Lunch – $27
Bill Frisell – Harmony – $30
Dexter Gordon – Doin' Alright – $26
Grant Green – The Latin Bit – $39
Herbie Hancock – Inventions & Dimensions – $26
Herbie Hancock – Takin' Off – $26
Freddie Hubbard – Ready For Freddie – $24
Bobbi Humphrey – Fancy Dancer – $26
Milt Jackson – Milt Jackson and the Thelonious Monk Quintet – $26
Lee Konitz – Alone Together – $36
Lee Konitz, Gerry Mulligan – Lee Konitz Plays With the Gerry Mulligan Quartet: Tone Poet – $36
Jackie McLean – Tippin' The Scales – $39
Hank Mobley – Soul Station – $25
Lee Morgan – The Sidewinder – $25
Herbie Nichols – The Prophetic Herbie Nichols, Vol. 1 & 2 – $26
Duke Pearson – Merry Ole Soul – $26
Bud Powell – Time Waits: The Amazing Bud Powell – $26
Sonny Red – Out Of The Blue – $39
Sonny Rollins – Volume 1 – $22
Wayne Shorter – The All Seeing Eye – $33
Jimmy Smith – Home Cookin' – $26
Dr. Lonnie Smith – Breathe – $28
Lonnie Smith – Live at Club Mozambique – $26
Stanley Turrentine – Rough 'N Tumble – $39
Baby Face Willette Quartet – Face To Face – $35
– Hannah Blanchette
---
May 6, 2022 | News