Expressions of a Hardcore Life with Duma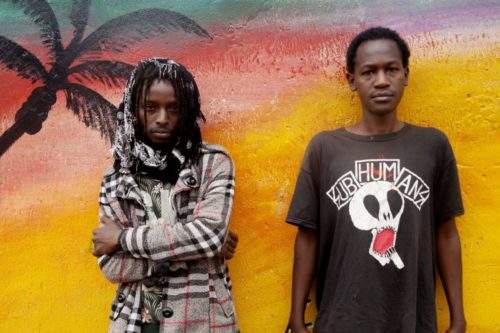 "People who are born in 2040 or 2050 will need something to fuck with, and we've gotta move forward: evolve metal, evolve trap, evolve electronic music, evolve African music, evolve all this music to make a hybrid genre. That's our goal: we want to make a new genre. We're gonna make a new fucking genre, bro." Duma vocalist Martin Khanja (who also goes by Lord Spike Heart) spoke these words to Tone Glow editor Joshua Minsoo Kim in a 2020 interview with experimental newsletter. If the goal is to create a new genre, Duma is well on their way. Throughout reading the interviews, articles, and reviews of Duma so far, I found that there seemed to be no consensus on what genre to call their music. Grindcore, metal, noise, industrial, trap, and electronic all seem to circle around Duma. Each is accurate in its influence, but none of those terms could completely capture the unique sound that Martin Khanja and Sam Karugu (guitars and production) have manifested through Duma, both in their self-titled record and their Sub Pop single, "Cannis."
"Duma" means "darkness" in kikuyu, a Bantu language that is spoken between Nairobi and Nyeri in Kenya. The name represents the darkness that Duma aims to express in their music. As Khanja said to Mixmag, "Life here is hardcore man, it's death metal as fuck. A lot of challenges and problems here are different to the rest of the world, they're dark problems. So I think with African metal, we embody that and we translate it into songs that we can vent and express ourselves on."
At the same time, a big draw for being involved in the underground metal scene for Khanja and Karugu is the positivity they've experienced there for around ten years. Khanja said to Mixmag, "You can't be sad in the mosh pit; it's a lot of fun to see music blasting loudly and everyone is together as one. If someone falls down they get picked up, if you leave a jacket you still find it as it doesn't get stolen; guys are just buying each other drinks, talking about different metal bands." Khanja and Karugu have previously worked in the bands Lust Of A Dying Breed and The Seeds of Datura, part of a scene that goes back decades.
The video below has strobing and flashing.
In their interview with Tone Glow, Karugu posits that the underground metal scene in Kenya has its roots as far back as the 1970s with Zamrock bands. Zamrock is a rock genre that originated in Zambia during the 1970s, with stylistic characteristics of psych, garage, blues, hard rock, and funk. Because of apartheid in South Africa, a lot of bands gravitated towards traveling to Kenya to record in the 70s and 80s, their influence fostering the beginnings of a metal scene. By the 1980s, the scene was established with bands such as Scarab, Overthrust, Displeased Disfigurement, Crow Black Sky, Myrath, and Demogoroth Satanum.
Although the metal scene is active in Kenya, both Duma members expressed how it's been challenging to maintain due to Kenya's conservative mainstream. As Khanja told OkayAfrica, "If I walk down the street wearing a Cannibal Corpse Tshirt, people just say 'NO NO NO!'" Common vocalizations in metal, grindcore, and noise such as growling and screaming can be interpreted as demonic or satanic by religious individuals. Booking a gig at a venue owned by a devoutly religious person poses a challenge.
Furthermore, Khanja and Karugu have discussed the limitations of the record infrastructure in Kenya, which is built around pop and local musical traditions. At the time of their interview with Mixmag, Karugu cited only three record labels for rock, metal, and funk in Kenya: Andromeda, Shinigami, and their own record label, Obsidian. He said, "We had to start our own zine, we had to start our own labels, we had to do this ourselves." This included Heavy & The Beast, a rock zine with articles, reviews, and profiles about the rock and metal scene in Kenya.
Just as starting zines and labels is classic DIY, Karugu's start in music has DIY beginnings as well. After going to tons of shows in the metal scene, he "saw that anyone could do it, you just buy a guitar and start playing." Which is exactly what he did, purchasing a used guitar and soon after joining bands. Khanja began music at a young age, playing a festival he attended with his mom at age eight. He was also interested in art and began performing vocals in bands when he was seventeen, one of which was with Karugu.
Duma came out of a residency that Karugu and Khanja did at Nyege Nyege Studios in Kampala, Uganda. Karugu has talked about how the studio is designed primarily for club and electronic music, which deeply influenced the sound of their self-titled record. He recalled, "The Nyege Nyege studio where we made the album is for electronic and club music; it's not like a metal setup filled with amps and pedals. This made us think more like an electronic music producer in our approach to making the album."
"Lionsblood," a single for Duma that displays the unique blend of genre in their sound, was also accompanied by a music video. The song and video's content are derived from a tradition of the Maasai, Khanja's ethnic background. He said, "For you to become a man, you have to go in the bush and kill a lion and then you have to wash yourself in the lion's blood. That means that you've found yourself. I used that, I use all this culture that we come from, the sounds we have on the release—it's about how we exist in everyday life."
The video below has strobing and flashing.
Khanja shares these experiences of love, hate, money, and life on the album through both English and Sheng, a language that combines Swahili and English. In doing so, Khanja hopes to be able to reach both his community and around the world. "It's local and international," he said. Expressing their culture and themselves is a large current running through Duma's music. In their interview with Tone Glow, Khanja and Karugu spoke about how every song reflects their lived experiences, such as "Uganda with Sam," which is Khanja recalling being with Karugu after a show in Uganda. Karugu said, "We just get influences, we just live life and experience stuff and express it. We go into the studio, remember how we lived it—it's already in our heads—and that's it."
One step further, however, is that Duma wants to inspire others too, whether that be with their music or in the mosh pit at a show. Khanja said, "I want to inspire a lot of people. When people come to see us on our shows, when they hear our music, when they see our interviews, when they watch our videos, I want to leave something in their hearts that will make them better at the end of the fucking day. Just make them better, better, better, better—no matter where they are."
On Friday, March 25th at 8pm, Cincinnati has the opportunity to experience this when Duma performs live at (DSGN)CLLCTV in Northside, sharing the stage with Cincinnati's Fruit LoOops. Dates are also available in Chicago (3/24), Detroit (3/26), and Milwaukee (3/27).
Resources
Each of these interviews with Duma are totally worth a read.
Patrick Hinton, "'Africa is Hardcore': Duma Are Here to Melt Your Face Off," Mixmag (2020)
Joshua Minsoo Kim, "Tone Glow 025: Duma," Tone Glow (2020)
Frank L'Opez, "Meet Kenyan Metal Band Duma," OkayAfrica
Mick R., "Interview: Duma, S/T Track-by-Track," New Noise (2021)
More on African metal:
Heavy & The Beast (Kenyan rock zine)
Metal4Africa
Artist recommendations from Duma (gathered from their interviews)
Chovu
Last Years Tragedy
Myrath
Overthrust
Scarab
Zombies Ate My Girlfriend
Products
Duma with Fruit LoOops 3/25 Ticket
Wire #456: Feb. 22 (interview with Duma inside)
In the interview with New Noise, Khanja recommended Heavy Metal Africa as a book to learn more about metal in Africa. You can special order a copy of Heavy Metal Africa by Edward Banchs from Cincinnati's Downbound Books.
If you like Duma, check out our experimental/noise and industrial/power electronics sections of the site.
To read about Fruit LoOops before the show with Duma, head over to our previous blog post, "Sounds from a 'Claustrophobic Foreman's Office': Get Ready for 'Last Chance at the Pharmacy.'"
– Hannah Blanchette
---
March 20, 2022 | News