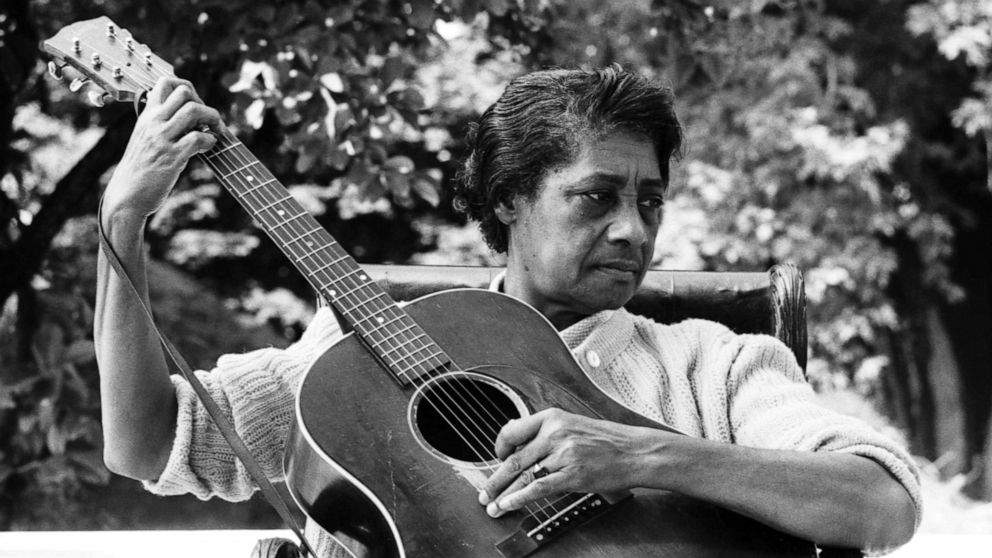 "Married to the Guitar": A Look Into the Music of Solo Acoustic Guitar
In a recent interview, guitarist Yasmin Williams said while discussing how she got into fingerstyle guitar, "I think the first song I learned was 'Blackbird,' by the Beatles. That pushed fingerstyle into my brain. I fell in love with it." This quote struck me as I considered myself still occasionally picking out "Blackbird" on the guitar, a song embedded in my hands' muscle memory for years. It is love. The relationship between guitarist and acoustic guitar can be incredibly intimate, especially upon realizing that so much music can be made with simply the instrument in hand. Solo acoustic guitarists have made significant impacts on the development of countless music genres, especially folk and blues.
This week, I present a dive into solo acoustic guitar in folk, blues, and avant-garde by looking at a few of my personal favorites of the past and today. Some of these musicians sing as well, some combine guitar with other instruments, but they all share an ability to find unique beauty in the acoustic guitar that extends their musical voices into the sound of the instrument.
Elizabeth Cotten
Perhaps one of the most essential acoustic guitarists of the past century, Elizabeth Cotten literally turned acoustic playing upside down. Growing up in North Carolina in the early twentieth century, Cotten taught herself banjo by borrowing her brother's instrument. However, Cotten was left-handed, so she turned the banjo upside down. When Cotten began to play guitar, she applied the same technique, making it so the bass notes were plucked with her index fingers and the melodies were played with her thumb, creating a unique sound unlike other fingerstyle guitarists.
As her life progressed, Cotten's music kept a low profile as she worked various jobs and sometimes stopped playing guitar for periods. However, a chance encounter in the 1950s with the Seeger family – a highly influential musical family through figures such as Pete, Ruth-Crawford, and Charles Seeger – was the catalyst for Elizabeth Cotten to become one of the most influential musicians of the folk and blues revival.
Her 1958 Folkways record, Freight Train and Other North Carolina Songs and Tunes, provides an amazing sample of her musicianship, of course including the famous tune "Freight Train." Cotten wrote the song when she was twelve-years-old, describing how the trains would keep her awake at night. "Freight Train" has been covered time and time again, becoming a standard of folk repertoire. However, hearing Cotten perform the song herself is one of the most gorgeous experiences.
Cotten was beloved on tour in the 1960s, alongside contemporaries such as John Lee Hooker, Mississippi John Hurt, and Skip James. Audiences connected with her easily, as she created an intimate atmosphere through speaking with the crowd. Cotten pushed the boundaries of how to play an acoustic guitar, and brings the connectedness one has with the instrument to listeners and audiences to this day.
Bert Jansch & John Renbourn
While I intend to discuss each of these guitarists separately, it is also necessary to talk about them as a duo. Bert Jansch and John Renbourn showed the power two solo acoustic guitarists could have when combined, the interplay between their individual styles absolutely exhilarating.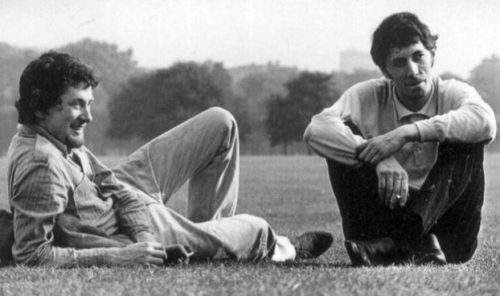 As Elizabeth Cotten and her peers revived folk in the United States during the 1950s and 60s, various figures undertook the same task in the United Kingdom. Two of these musicians, Bert Jansch and John Renbourn, both explored folk tunes on acoustic guitar, while also playing blues (especially Jansch) and medieval songs (Renbourn). They also experimented with fusing these genres with rock and jazz alongside Jacqui McShee, Danny Thompson, and Terry Cox in the band Pentangle.
Bert Jansch had a distinctive fingerpicking style influenced by blues, involving thumbed bass notes with a thumbpick, hammer-ons, bent notes, and DADGAD tuning, demonstrated with TAB notation on Guitar World for any guitarists interested in trying it themself. John Renbourn came from a classical guitar background, and used some similar techniques as Jansch while also drawing a little from sitar and flamenco, and sometimes demonstrating these techniques with incredible speed (see below).
In 1966, Jansch and Renbourn released their most popular collaboration, Bert and John, featuring their strengths and interests as individuals and as a duo. Their kinetic collaborations on this record showed how they responded and played off of each other's lines, sounding like one voice and multiple voices at the same time.
Jansch and Renbourn would sometimes play solo pieces, like Jansch's rendition of Davey Graham's "Angie," (another highly influential guitarist) and Renbourn's fascinating renditions of medieval music, such as "Medley: Trotto / Saltarello." Other times, they would accompany folk singers – Jansch and Anne Briggs were always a mesmerizing duo, and Renbourn released live duets with Jacqui McShee. No matter what music they were making, together or on their own, Jansch and Renbourn had incredible knowledge of the guitar's intricacies and knowledge of the other's playing style.
Robbie Basho
Back in the States, solo acoustic guitar music was taking off with artists such as John Fahey and Leo Kottke. Among their contemporaries was Robbie Basho, sharing in their vision of bringing the steel string guitar to concert settings. While Basho's music was partially derived from the American folk background of his peers, Basho also sought to bring influences from Indian classical music, accompanied by a deep respect for and study of the spiritual traditions infused in this music.
Basho's style of playing was influenced by his study of the sarod with Ali Akbar Khan. On guitar, he would often play a twelve-string in open tunings to create a sense of a drone. Basho said, "I spent years on the road singing these folk songs with no meaning, just emoting these things. Then it dawned on me, music is supposed to say something, to do something. Then I started seeing how high and beautiful I could go."
One can feel the spirituality coursing through Basho's sounds, such as on Visions of the Country, in which his voice soars high above the complex and drone-like fingerpicking of the guitar. For Basho, his vision goes beyond himself, beyond the guitar, to another plane.
Wendy Eisenberg
Robbie Basho provides a great example of a guitarist working within and outside of genres to create his sound. This practice continues today with artists like Wendy Eisenberg. Known for their ever-shifting sound, Eisenberg writes vocal/guitar works that adhere not to genre, but to that feeling between guitarist and guitar at the moment of composition. As they told The Washington Post, "A lot of my vocabulary and my approaches come from whatever my body wants to do on the guitar at the time, which usually just has to do with me stretching out an impulse."
Trained at the New England Conservatory, Eisenberg consistently works on musical projects in multiple genres, which ultimately circles back to influence their solo work. "I need to be in a punk band at the same time as I need to be playing free improv at the same time as I need to be playing songs…All at the same time–otherwise none of the practices will work for me," they said to Premier Guitar.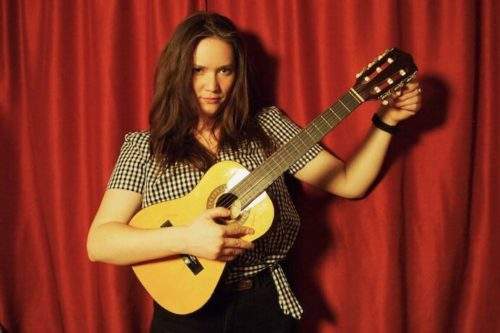 While 2020's Auto may be one of their most critically acclaimed records (and rightfully so), some of Eisenberg's deepest guitar explorations occur on their 2018 album, Its Shape Is Your Touch. The record was their first collection of solo acoustic improvisation tracks, a practice which Eisenberg views as a way to get to know the guitar better, as well as themself. They said, "Because I've been so married to the guitar for years, I feel like by exploring the guitar I'm actually exploring myself and I feel like improvisation actually affords you that."
Listening to Its Shape Is Your Touch feels like hearing a sliver of that journey as Eisenberg moves through sparse, yet florid acoustic guitar landscapes. It also feels like listening to their guitar past, their influences coming through the texture. Eisenberg cites Cuban composer and guitarist Leo Brouwer as one of their influences, and shades of a Brouwer etude appear at the beginning of "Bay Road."
Eisenberg's approach allows for the guitar to speak as much as they do, and their work in free improvisation creates the space for that to occur. No one's records come close to sounding like Eisenberg's because their work is truly a representation of the individual relationship they have with their guitar.
Yasmin Williams
Another at the forefront of solo acoustic guitar playing today is Yasmin Williams, whose innovative playing style brings new sounds out of the instrument. Williams grew up in Washington DC and was inspired to learn guitar by a wide array of musical influences – Nirvana, Hendrix, go-go funk to name a few. She began on electric guitar but found more freedom in fingerstyle acoustic guitar.
Williams performs with an innovative technique of laying a six-string guitar on her lap and tapping the fretboard, while also adding percussive elements with the heel of her right hand on the body of the instrument. She will sometimes switch from playing in a traditional formation to this unique approach mid-song in performance, giving solo acoustic guitar a thrilling visual element as well.
Fascinated by arrangements and instrumentation over lyrics, Williams composes instrumental tracks on her records, the most recent of which is Urban Driftwood, a critical favorite of last year. Urban Driftwood is an ode to the beauty of cities, written in the context of 2020's lockdown and Black Lives Matter protests. Williams uses loop pedals with her acoustic guitar to create layer upon layer of fingerstyle lines, delivered through her inviting, warm guitar tone.
Williams pushes the guitar and sees what she can create from each of its components, resulting in intricate songs that make the guitar sound larger than life.
---
I could continue to write about so many guitarists here. The history of solo acoustic guitar is deep and sprawling, and it continues on into the future. Record labels like VDSQ focus on current voices in acoustic guitar music, providing a place for this genre of music to continue flourishing. Below is a list of records we have in stock that feature solo acoustic guitar playing, as well as the resources I used for this post. There is so much information out there, and I hope you'll read the interviews and articles about these artists!
Products
Marisa Anderson, Traditional and Public Domain Songs
Robbie Basho, Art Of The Acoustic Steel String Guitar 6 & 12
Robbie Basho, Visions of the Country
Wendy Eisenberg, Its Shape Is Your Touch
Chuck Johnson, Balsams
Alan Licht, Currents
Mark McGuire, Ideas of Beginnings
Donald Miller, Transgression!!!
George Mukabi, Furaha Wenye Gita
Rob Noyes, Arc Minutes
Anthony Pasquarosa, Morning Meditations
Arian Schafiee, A Scarlet Fail
V/A – Bulawayo Blue Yodel
Resources
Jennifer Lucy Allan, "The Strange World Of… Robbie Basho," The Quietus (2020)
Teja Gerken, "Fingerstyle Authority: John Renbourn on His Distinctive Technique and Approach to Arranging," Acoustic Guitar (2020)
Hal Horowitz, "Elizabeth Cotten: Turn That Banjo Upside Down," American Songwriter (2015)
Paul Kobleynsky, "Yasmin Williams: A New Voice in Fingerstyle Guitar," Premier Guitar (2021)
John Lingan, "Yasmin Williams Puts a Fresh Spin on Finger-style Guitar," The Washington Post (2021)
Nick Millevoi, "Wendy Eisenberg's Genre Hopping," Premier Guitar (2021)
Greg Nahabedian, "5 Questions to Wendy Eisenberg," I Care If You Listen (2021)
Jon Pareles, "John Renbourn, Eclectic Guitarist Who Founded the Pentangle, Dies at 70," The New York Times (2015)
Jenn Pelly, "Wendy Eisenberg Finds Meaning in Complexity," The Washingston Post (2020)
Dale Turner, "Bert Jansch's Multi-Faceted, Folk-Based Fusion," Guitar World (2017)
-Hannah Blanchette
---
February 13, 2022 | Blog