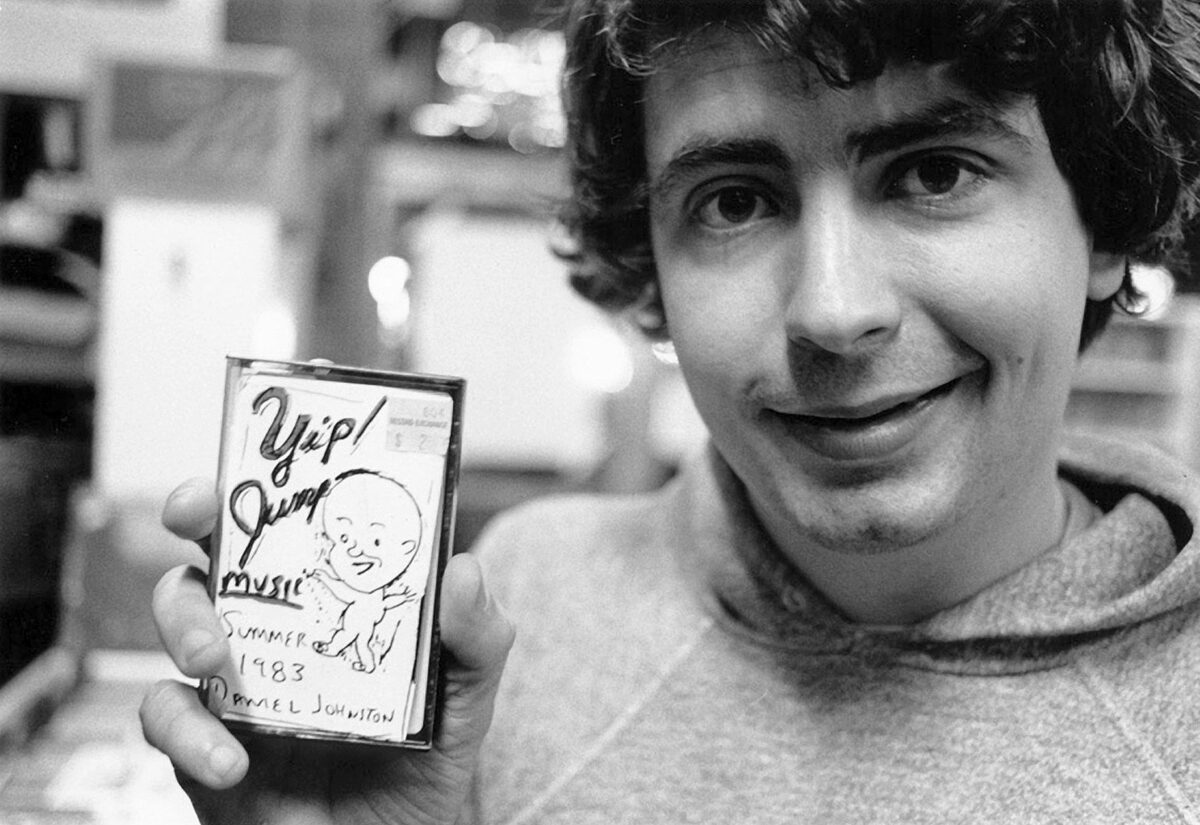 Daniel Johnston, The Artist Walking Alone
The artist walks alone
Someone says behind his back
"He's got his gall to call himself that
He doesn't even know where he's at"
The artist walks among the flowers
Appreciating the sun
He does this all his waking hours
But is it really so wrong
I had a really hard time with where to start writing this blog post. Where do you start with Daniel Johnston? At the beginning, his artistic, creative, and rebellious childhood? His journeys around Austin, Texas in the eighties, passing his cassettes around the city in an act of pure, unadulterated musical goodwill? His increasing struggles due to mental illness in the late eighties? Kurt Cobain wearing his Hi, How Are You? shirt at the 1992 MTV awards?
I want to start with his music, the one place where anyone can convene with Daniel Johnston, bring their own troubles and worries, and merge them with Johnston's lyrics and melodies into their own experience. As I began to write, I put on "The Story of an Artist" from his 1982 cassette, Don't Be Scared. And as I tried to write, I fought back tears at the vulnerability and sincerity in the song. I thought about how I'd had a hard time finding inspiration to write during the week thus far. And I considered how many artists that the song told the story of: misunderstood, yet unyielding in their passion. Just one song by Johnston had the power to contain a multitude of meanings within a moment.
In a lot of the articles that I was reading to prepare for this post, there is a focus on the reception of Daniel Johnston's music. Many value Johnston's music because of its raw openness and lack of inhibition. Also, Johnston's tapes could be considered the prime example of how lo-fi audio quality is equated with authenticity, music seemingly captured in the moment so hastily that further refinement of audio is deemed unnecessary. Some writers about Daniel Johnston's life and career are wary about the reception of Johnston's work throughout the years, worrying that Johnston's bipolar disorder and schizophrenia are romanticized and exploited by consumers.
I think there are elements of all of this present in how Johnston's music has been received, but just one of these explanations can't be the only one. Johnston's life, work, and personhood is much more complex than that, and his relationship to each individual who listens to his music is equally as complex. Johnston's music has spoken to the lives of those also with mental illness and has inspired alternative and indie musicians for decades since he began making tapes. Ultimately, it is challenging to separate the music from the life of the man creating it, so I'm going to move through Johnston's life through his songs.
"The Story of an Artist" – Don't Be Scared (1982)
An aching song, a wistful piano line accompanying Johnston's lyrics about a tenacious, yet disregarded artist.
Listen up and I'll tell a story
About an artist growing old
Some would try for fame and glory
Others aren't so bold
Everyone and friends and family
Saying, "hey, get a job
Why do you only do that only?
Why are you so odd?"
Daniel Johnston was born in 1961 and grew up in New Cumberland, West Virginia in a fundamentalist Christian family. Johnston was exceptionally artistic in his childhood, constantly drawing, writing music, and making films. In his teenage years, Johnston became known as the artistic kid in school, recognized by his classmates through a signature eyeball sketch that he drew throughout the school, from yearbooks to walls.
Johnston's art was often viewed by family as acts of rebellion, and as he grew older, he was encouraged more frequently to live a regular life ("hey, get a job"), go to college and start a career. However, Johnston had trouble remaining in one college for extended periods of time, spending a few weeks at Abilene Christian University, then enrolling in the art program at Kent State. No matter what, his attention always wandered back to his personal projects – his drawings and music. His wanderings also brought him to a carnival, with whom he abruptly began to travel with one day.
"Walking the Cow" – Hi, How Are You? (1983)
Perhaps the most popular song on Hi, How Are You?, Johnston's downtrodden chord organ illustrates a sense of feeling lost.
I really don't know how I came here
I really don't know why I'm staying here
Oh, oh, oh
I am walking the cow
Around the mid-eighties, Johnston's travels with the carnival brought him to Austin, Texas, where he settled to work at McDonald's and make cassettes using his $59 Sanyo boombox, his music a mixture of vocals, piano, and chord organ. He handed out his cassettes for free around town, notably visiting the Austin Chronicle and catching the attention of paper co-founder and writer Louis Black. Johnston insisted he hadn't given Black the tape for a critic to review, but simply for him to have.
Johnston's name started to circulate around Austin, especially when he started opening for the local art rock act, Glass Eye. After he gave frontperson Kathy McCarty his cassette, Hi, How Are You?, he approached her to ask what she thought of it before she had a chance to listen. She responded that she loved it and asked him to open for Glass Eye, then went to listen to the tape and fortunately actually loved it.
His performance style was described as nervous and fragile. Johnson's voice shook, he started and stopped with mistakes, and his guitar playing was straightforward and simple. Regardless, audiences often loved his authentic and open nature in performance. Others were sometimes baffled and unsure if Johnston should be taken seriously, but the bottom line was that Johnston's name was circulating around Austin and his fame was growing.
Johnston's best exposure came when he stumbled onto the set of MTV's The Cutting Edge, who were in Austin in 1985 highlighting important, up-and-coming musical acts in the city. Although the musicians to be featured on the show were selected beforehand, Johnston walked onto set, started introducing himself, and soon became the hit of the show. Johnston had always dreamed of becoming famous and being on MTV, and gradually his dreams were coming true.
"Don't Play Cards with Satan" – 1990 (1990)
Recorded live at CBGB's, a harrowing warning via harsh guitar and vocals about the Devil.
Don't play cards with Satan
He'll deal you an awful hand
Don't play cards with Satan
He'll deal you an awful hand
Did I ever stop and tell you
I am a desperate man
In the late eighties and early nineties, Daniel Johnston's mental illness started becoming more apparent to those around him, losing his touch with reality during manic episodes of bipolar disorder. Incidents included throwing the keys to his father's plane out the window during a flight together when Johnston believed he was Casper the Friendly Ghost (both crash landed safely) and accosting a woman who he thought needed to be exorcised of demons.
During this period, Johnston became obsessed with the Devil, rejecting Satan, and demons. This obsession became apparent in his music, especially on his record 1990 with songs such as "Devil Town" and "Don't Play Cards with Satan." His fundamentalist upbringing came through with a fervor, but now to an even more extreme point.
"I Live My Broken Dreams" (1988)
Recorded onto VHS in 1988 at Jad Fair's house.
My hopes lay shattered like a mirror on the floor
I see myself and I look really scattered
But I lived my broken dreams
Johnston spent time in mental hospitals to receive treatment for his mental illness, and while medication helped prevent him from putting himself or others in danger, he also had trouble writing songs on medication, describing feeling groggy.
Throughout this period of Johnston's life, he began making incredible connections with influential figures in alternative and indie music at the time. He traveled to New York City in 1988 where he met and worked with Jad Fair and members of Sonic Youth. He desperately did not want to leave the city, although this time was marked with strife for his peers who tried to protect Johnston from danger due to his mental illness.
"Life In Vain" – Fun (1994)
A gorgeous acoustic track, guitars, strings, and lyrics about the struggles of living life through pain.
I'm givin' it up so plain
I'm living my life in vain
And where am I going to?
I gotta really try,
Try so hard to get by
And where am I going to?
Moving further into the nineties, everyone wanted to work with Daniel Johnston. Kurt Cobain wore a Hi, How Are You? t-shirt to the 1992 MTV Awards, further catapulting Johnston into the cultural zeitgeist. While Johnston was receiving treatment, two major record labels were in a bidding war to sign him, Elektra and Atlantic. Ultimately, Atlantic won due to Johnston not wanting to be labelmates with Metallica on Elektra, who he believed were Satanic. Johnston released his 1994 record Fun on Atlantic, but the album did not perform well commercially and Johnston was dropped from the label in 1996.
"Love Not Dead" – Fear Yourself (2003)
An upbeat rock track from Johnston's 2003 record, Fear Yourself, reflecting being overwhelmingly in love.
Everyday we met it was wild
I felt like a child
I loved to see her smile
And as I played piano
I was so inspired
I always had a real good time
In the early to mid-2000s, Johnston began releasing various greatest hits sets along with new albums. In 2004, he put out The Late Great Daniel Johnston: Discovered Covered, which featured a disc of covers of his songs by artists such as Tom Waits, Beck, Jad Fair, Bright Eyes, Calvin Johnson, TV on the Radio, Death Cab for Cutie, and The Flaming Lips. The covers album stood as a testament to the many artists who he inspired over the years. The 2006 documentary covering his life, The Devil and Daniel Johnston, was highly praised and regenerated interest in Johnston's career. He began touring more extensively and his artwork was exhibited in galleries around the world. The 2010s saw him release his first comic book, Space Ducks – An Infinite Comic Book of Musical Greatness and continue to tour, although less frequently. Johnston passed away a few years ago in 2019 from a heart attack at home in Texas.
"Do You Really Love Me?" – Live at SXSW (1990)
When they said that love was dead
They were just playin' with your head
Love is real
It's the way that I feel
I love you
Do you really love me?
This final song travels back in time to Johnston's highly successful South by Southwest performance in 1990. According to event attendees, when Johnston sang "Do you really love me?," people in the audience shouted back, "Yes, we do!" And its true. From the first cassettes passed around in Austin to the growing number of fans he has today, people love Daniel Johnston, the whole person, the whole artist. He was vulnerable, funny, talented, and flawed, relatable to the core.
We've recently stocked many of Daniel Johnston's tapes at the shop, along with a few LPs too. Take a look at what we have below, and add some to your collection.
Resources
The official Daniel Johnston website
Peter C. Baker, "Working Through the Sadness of Daniel Johnston's Last—for Now—Tour," The New Yorker (2017)
Irwin Chusid, Songs in the Key of Z: The Curious Universe of Outsider Music (2000)
The Devil and Daniel Johnston (2005) (DVD)
Michael Hall, "He's Daniel Johnston, and He Was Gonna Be Famous," Texas Monthly (2005)
Dustin Krcatovich, "You Can't Buy No Respect: Remembering Daniel Johnston," The Quietus (2019)
"Phantom of My Own Opera: SPIN's 1989 Daniel Johnston Profile," SPIN (1989)
In the Shop
Daniel Johnston – Artistic Vice / 1990 2xLP
Daniel Johnston – Continued Story CS
Daniel Johnston – Don't Be Scared CS
Daniel Johnston – Frankenstein Love CS
Daniel Johnston – Fun LP
Daniel Johnston – Hi, How Are You? CS
Daniel Johnston – Live In Berlin CS
Daniel Johnston – Live At SXSW CS
Daniel Johnston – The Lost Recordings CS
Daniel Johnston – The Lost Recordings II CS
Daniel Johnston – Merry Christmas CS
Daniel Johnston – More Songs Of Pain CS
Daniel Johnston – Respect CS
Daniel Johnston – Retired Boxer CS
Daniel Johnston – The What Of Whom CS
Daniel Johnston – Yip Jump Music CS
– Hannah Blanchette
---
July 17, 2022 | News