Vivien Goldman and the Immersive Creative Self
Most often, there is an assumed distinction between musicians and critics in the music industry. This distinction is more blurred in certain genres of music where it is more common for musicians to write about music as well — the avant-garde and experimental for example, produced music and writings from John Cage, Tony Conrad, and Pauline Oliveros. But in many other situations, you're either one or the other, and the two spheres create a cycle of discourse hinged upon the conversation between music created and music critiqued. Despite this, there have been countless individuals throughout the past several decades who have crossed this boundary and engaged with music through performing, writing about music in prose, and other creative pursuits. Patti Smith was known for both her swaggering stage persona at CBGB's and her stream-of-consciousness rock writing in Creem. Alan Licht has recorded the guitar side-by-side with Loren Connors and has interviewed everyone from Glenn Branca to Ira Kaplan and Georgia Hubley. In reality, the line between artist and critic is more malleable than suggested.
Recently, we got in a copy of Vivien Goldman's Resolutionary, a compilation of the songs recorded by the noted journalist, publicist, TV producer, professor, and musician (amongst other roles). I began reflecting on the concept of the creative person and the limitations of boxing in artists based solely on one role they play. I looked at Goldman's life and career as a representation of embracing creativity in many forms. In order to discuss broader themes, my biography of Goldman will be brief and insufficient in covering the vast scope of her career, but I've linked numerous articles and interviews if you're interested in more details.
Goldman's career involved, as her peer in journalism Evelyn McDonnell articulated so perfectly, "weav[ing] together a living." Upon graduation from the University of Warwick, she began writing for Cassettes and Cartridges, a publication which ultimately downplayed her considerable contributions, crediting her as a secretary for a long time. She worked in marketing and PR for Atlantic and Island for a period, including a stint as one of Bob Marley's earliest publicists. In 1976, she returned to journalism as the features editor for Sounds, spearheading the British magazine's increasing focus on reggae and punk. Her interviews and reviews during that time spanned Lou Reed, Lee "Scratch" Perry, Can, The Slits, Sly & Robbie, Brian Eno, This Heat, and wow, could this list go on and on.
Reggae and dub deeply influenced her own musical work, along with punk and improvisation, in step with the development of post-punk in the UK in the late seventies and early eighties. Her EP, Dirty Washing, was released in 1981 featuring her most popular song, "Launderette," a bassline-driven tale of failed romance at the dryer, with themes of male aggression and violence in "Private Armies" and "P.A. Dub" on the B-side. Some of her other notable music involved the duo Chantage, which she formed with Afro-French artist Eve Blouin. The pair released an EP titled, It's Only Money, which reflected the influence of African musical genres in Paris at the time.
By the early eighties, her journalistic efforts turned to television as a producer on BBC Channel Four, notably producing the documentary series Big World Café, which highlighted musicians from around the world as increasing global connectivity sparked interest in a broader scope of what the world has to offer musically. After her time at BBC, she moved to New York City and began an adjunct position at New York University in 1995, where she teaches about reggae and punk to this day. What I've outlined above merely scratches the surface of Goldman's career across decades, but it does highlight the fact that it has engaged with music from a variety of angles.
Upon looking back on Goldman's career so far, I have a few observations about the relationship amongst her creative pursuits, which I think could be relatable to many artists who work in different media as she has. One is that the various avenues through which she engages with music are not separate entities, but are intertwined and related to one another. This fact is obvious in how the music she wrote about, marketed for, and engaged with in her immediate community — punk, jazz, reggae, and dub — influenced her own music making. But it goes even deeper than that. Goldman told NPR, "A good sense of rhythm underlies the writing, the teaching, the structure and the flow of how communication is shared." For her, the musical characteristic of rhythm is a concept that goes beyond music into each aspect of her work, transforming into a philosophy that brings together the different facets of her creative self.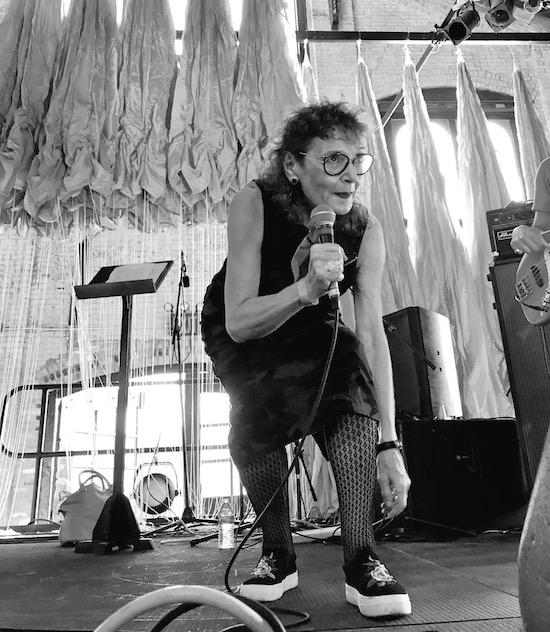 Another trend is the invaluable role punk played in opening up musical avenues for women, which of course has been discussed since the genre developed. But specifically, punk played a key role in pushing women to broaden their artistic pursuits towards music who had previously only been able to see themselves in positions such as writing, PR, booking, etc. "To me, it had come more naturally to be a writer than to be a musician, because maybe that's what I thought people like me did. I had never thought of joining a band or anything. Suddenly, all these girls who I became friends with were in bands and it made it all seem much more possible," she said to Laura Snapes at Pitchfork. Goldman didn't abandon her passion and skill for writing, but instead was able to expand her modes of expression and become more immersed in the very music she wrote about.
Lastly, living a creative life is rarely linear. It can be easy to think that an artist will do certain things at specific times in life, and that when they try something new, that will be the direction they move in without looking back. Vivien Goldman returned to positions at magazines often after exploring other types of work. When she started recording music, she continued writing and interviewing musicians. More often than not, artistry demands a willingness to follow its whim above all else.
Playing music is often framed as a singular, obsessive passion, a notion which probably came about in the nineteenth century along with ideas of the "musical genius." Musicians themselves will describe starting to learn music at a young age and realizing it was the only thing they wanted to do with their life. There is nothing wrong with approaching music in this way. But there are many who don't, who thrive on immersing themselves in music from various vantage points. If you consider Vivien Goldman as solely a journalist, or a professor, or a musician, you are only looking at a pixel of a larger picture. And, the discourse between musicians and critics that I referenced at the beginning of this essay can only be more complex and engrossing when the distinction between the two is less clear.
Further Reading
David Chiu, "Dis-Content Farm: An Interview With Vivien Goldman," The Quietus (2019)
David Chiu, "Punky Reggae Party Politics: Vivien Goldman Interview," The Quietus (2019)
"Gina Birch (The Raincoats) Talks with Vivien Goldman on the Talkhouse Podcast," Talkhouse (2023)
Audrey Golden, "Women's History Month Feature: The She-Punks Take Their Revenge — Interview with Vivien Goldman," Louder Than War (2023)
Michael Patrick MacDonald, "Vivien Goldman," BOMB (2016)
Evelyn McDonnell, "Do Everything Yourself: The Lessons Of Punk Renaissance Woman Vivien Goldman," NPR (2016)
Laura Snapes, "No One's More Punk than Vivien Goldman," Pitchfork (2016)
Rick Taylor, "6 Questions: Vivien Goldman," We Fought the Big One (2022)
– Hannah Blanchette
---
August 15, 2023 | Blog