Sissy Spacek: Transcending Noise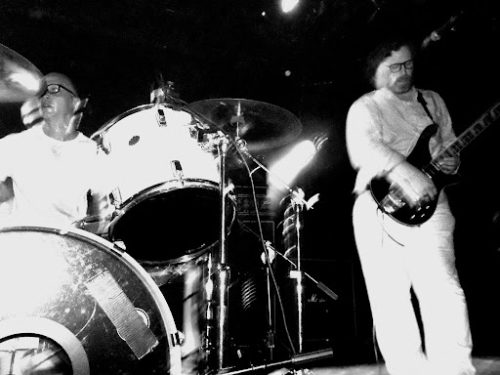 When Sissy Spacek's recent release on Torn Light Records, Gong, was made available to customers here at Torn Light earlier this year, the tapes sold out SO fast, speaking to the continued impact the group has on the noise scene. In tandem with the recent second repress of Gong, this week's blog focuses on the two-decade long career of Sissy Spacek thus far, along with what's upcoming for the essential noise outfit.
Sissy Spacek started with John Wiese in Los Angeles in 1999, releasing their first seven-inch in 2001. The group has never been tied down to a particular sound, and throughout the past two decades, the group has released records in a grindcore direction and others with a musique concrète approach.
2010's Dash is a great example of Sissy Spacek's grindcore sound – harsh, percussive bursts of sound that propel forwards unrelentingly. On the other hand, Gong exemplifies their musique concrète style and how it subverts what noise can be. As our own Brandon Hill says, Sissy Spacek have "been a large leading force in the transcendence of what 'is' noise / avant-garde sound today. Completely unhinged, yet under absolute control, Gong spews forth a myriad of highly listenable, intricate, and at times painful, serene, and beautifully deranged sonic territories – The sounds of a buried and rusted grindcore drenched free improv group being ripped apart by a trash compactor."
In Sissy Spacek's substantial output, there are numerous collaborators that have contributed to this unique sound. Frequent members include Charlie Mumma, Corydon Ronnau, Danny McClain, Phil Blankenship, and Jesse Jackson. Sissy Spacek have also shared many releases with artists such as Smegma, The Haters, and K2. Other noise and experimental greats such as Aaron Dilloway, Ted Byrnes, GX Jupitter-Larsen, and Hijokaidan have also appeared on Sissy Spacek releases. Furthermore, Sissy Spacek have released through various labels throughout the years, including Chondritic Sound, Misanthropic Agenda, Gilgongo Records, Dais Records, and John Wiese's own Helicopter.
So what are John Wiese and Sissy Spacek up to currently? In August, Torn Light had the opportunity to screen John Wiese's recent work, New Sound Films, in collaboration with The Cincinnati Art Book Fair, featuring new and rarely screened works by the artist. We also recommend listening to John Wiese's appearance on Noisextra podcast, an in-depth conversation about his career and approach to making art. Lastly, Sissy Spacek will be touring with Blood Incantation in December, including a date in Cincinnati on December 9th at Legends Bar & Venue.
Sissy Spacek have made a huge mark on noise in the past twenty years, and their mark continues to grow with recent releases like Gong. Make sure to grab a copy while this repress is in stock, take a look below at other Sissy Spacek records we have currently, and come by the store to browse the LPs, CDs, and tapes for even more. You can also check out Sissy Spacek's website, Bandcamp, and John Wiese's zine Brain Tangle.
In Stock
Sissy Spacek – BMW
Sissy Spacek – Crypto Termination
Sissy Spacek – Featureless Thermal Equilibrium
Sissy Spacek – Gong
Sissy Spacek – Prismatic Parameter
Sissy Spacek – Trash Staging
Sissy Spacek/Smegma – Ballast
Featured photo from Sissy Spacek's website homepage.
-Hannah Blanchette
---
November 21, 2021 | News