Off The Wall 2: Mickey Murray, Shuggie Otis, Betty Davis, The Apostles
'Off The Wall' is a series for the Torn Light blog where I talk about a handful of our specialty, rare, and hard-to-find records, ranging from personal favorites to records with fascinating backstories.
For this 'Off The Wall' entry, I wanted to dive into a particular genre section in our specialty items and do a genre focus. I achieved this goal, sort of – each of these featured records can be found under the 'Soul/Funk/Disco' tag here on the site. However, these four records, especially the Shuggie Otis, Apostles, and Betty Davis albums, are prime examples of how blurry genre lines are. The Apostles and Otis brings elements of the psychedelic into their soul and funk, and Davis' work exemplifies early punk vocals and funk guitars so hard they step into hard rock as well.
Another trend I noticed across these four releases is that they were generally "lost" over time. Betty Davis and Shuggie Otis were pioneering, yet had limited careers due to poor record sales and being borderline "too" ahead of their time. Mickey Murray performed solid, catchy R&B tracks, but stood in the shadow of giants of the time such as James Brown and Otis Redding. And The Apostles album was originally only released in Nigeria, sidelined due to the commercial record industry's inwards focus towards artists from the United States and United Kingdom. Reissue trends of the past couple decades brought these artists and records back into popular consciousness. It's important to recognize why these records were "lost," and that they weren't really lost at all, rather ignored due to the racial, gendered, and sexual attitudes at the time of their release.
Federal – FS 13000, OG pressing, VG/VG+, $50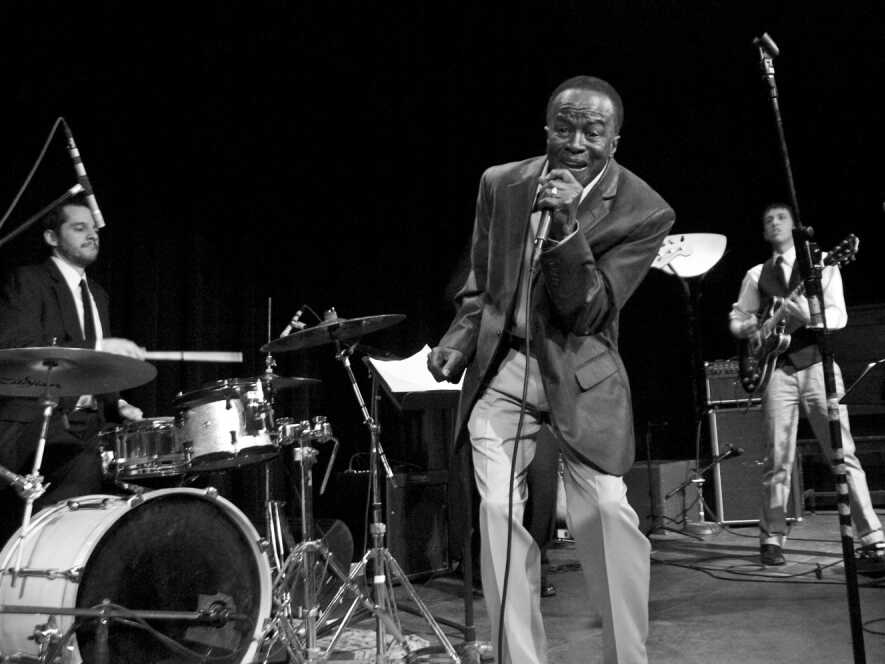 Mickey Murray certainly performs in a style like James Brown's – ecstatic and lively, his tracks punctuated with yelps and shouts like his fellow artist associated with Cincinnati's King Records. Born in South Carolina in the thirties, R&B and soul artist Mickey Murray achieved his biggest success as a solo artist with his 1967 hit, "Shout Bamalama," which was released on King/Federal. An upbeat track, "Shout Bamalama" features Murray's raspy vocals over horn hits and catchy backing harmonies. The track showed great promise for an up-and-coming R&B artist.
Unfortunately, Mickey Murray was trying to grow a solo career in the shadow of two giants of soul in the late sixties and seventies: Otis Redding and James Brown. Redding's The Dock of the Bay would come out the year after "Shout Bamalama" and Brown would release a number of groundbreaking records in 1969, including Say It Loud – I'm Black and I'm Proud, It's a Mother, and The Popcorn.
Murray's People Are Together was released in 1970 with a little controversy. The title track and lead single, penned by Otis Redding, was a call for racial integration. Murray was based in Augusta, Georgia, and the song was deemed too radical for Southern audiences. Black DJs were even afraid of losing their jobs if they played the track, and airplay suffered. Without a hefty helping of lead single radio play, People Are Together didn't garner chart success and struggled in sales.
While the album had some limited reissues in the early 2010s, it is still not widely available via streaming services. Some tracks can be found on YouTube, and I was particularly intrigued by the song "Going Back to Alabama." Accompanied by a tight, soul backing band, Murray delivers vocals with a cadence and rhythm that would morph into rap not too many years later. Although the connection between soul and hip hop is well-known, with James Brown's influence especially emphasized in the history of hip hop, "Going Back to Alabama" really struck me. The seeds of hip hop were very much in the ether during this time period.
Anyone looking for some seventies soul deep cuts will definitely enjoy People Are Together, a record tied in with the popular artists of the time, yet never reaching the same success.
Favorite Tracks: "Going Back to Alabama," "Money (That's What I Want)"
Epic – E 30752, 1973 pressing, VG+/VG, $120
At the young ages of fifteen and sixteen, they all said he'd be Jimi Hendrix's successor. Shuggie Otis' first three records from the seventies were released between the ages of sixteen and twenty-one, and already he was a virtuoso. The album we have in the shop, Freedom Flight from 1971, signified Otis' desire to have the freedom in the studio to take control. It also has his most popular song, "Strawberry Letter 23," which has been sampled by OutKast, Beyoncé, and Digable Planets. The song is an emblem of Otis' psych soul sound, the bells and dreamy vocals bringing to mind the sunshine pop of the era.
Shuggie Otis was set up to be a guitar god of the era. His father was R&B artist Johnny Otis and Shuggie learned from guitarists like Al Kooper and Don "Sugarcane" Harris throughout his childhood. He started to play in sessions at fifteen, eventually becoming a genre experimenter in his solo work. Ultimately, Otis' desire for artistic autonomy and experimentation would halt his solo career. Although Otis had a history of playing with Etta James, B.B. King, James Brown, and Ray Charles, he also rejected offers to play with The Rolling Stones and Quincy Jones. In Otis' words, "I didn't want to be a sideman. I wanted to do my own music."
His own music was fantastic too, never truly settling in one style as he flitted effortlessly amongst psychedelic rock, soul, funk, and electronic sounds. Tracks like "Someone's Always Singing" and the twelve-minute title track jam on Freedom Flight are hazy and light, skillful guitar riffs thrown off his hand into the breeze. While his third record, Inspiration Information, often goes down as his best, Freedom Flight is Shuggie Otis settling into his sound while not taking it for granted.
Epic Records did not see Otis' potential through, and he was dropped from the label after Inspiration Information. Otis tried to get another deal for decades to no avail. While Inspiration was revived in the nineties due to the popularity of acid jazz, a chance to record another solo album was still not on the horizon. Finally in 2018, he had the opportunity again to release a record, Inter-Fusion, and he states plans to tour and record for the rest of his life. Even though Shuggie Otis had to be persistent for years to be heard, his efforts are finally being recognized.
Anyone who enjoys a genre-bender and appreciates masterful guitar riffage will enjoy Freedom Flight.
Favorite Tracks: "Ice Cold Daydream," "Someone's Always Singing,"
Just Sunshine Records – JSS-5, VG+/VG, $85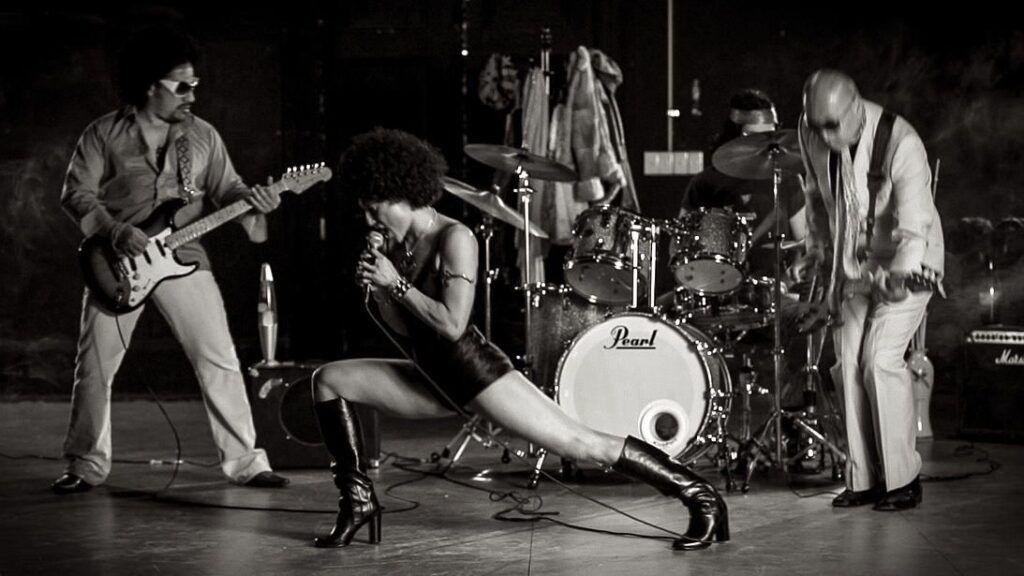 Betty Davis without a doubt brings us some of the hardest funk in history. Delivering rough and arresting vocals that could've found a home in the emerging punk bands of the decade, Davis brought eccentric character and bold sexuality to the funk stage. Her first album from 1973, Betty Davis, is so solid I had to refrain from putting every song on my favorite tracks list. If you can't already tell, this record is my favorite of the bunch in this post, and I will be brazen about it. Nobody said I had to be impartial here.
Born Betty Mabry in 1945 in North Carolina, Davis grew up in Pennsylvania where her father was a steel worker. Davis' musical skill began young, writing songs at twelve-years-old. She pursued her two passions, fashion and music, upon graduating from the NYC Fashion Institute of Technology. Her time in New York was spent mixing with the countercultural, Greenwich Village crowd, where she met Miles Davis after one of his gigs at the Blue Note. The pair married in 1968, but the marriage was tumultuous and abusive due to Miles Davis' violence, ending after one year. However, they both greatly influenced the other during this brief period: Betty introduced Miles to many of the musicians who would influence his "electric" musical era, and Miles encouraged Betty to pursue singing along with songwriting.
Her debut, Betty Davis, showed how equally strong of a performer and songwriter she was. The opening track, "If I'm In Luck I Might Get Picked Up" grabs you right away, Davis singing and sneering over a strict guitar groove. But the record doesn't fizzle out at all as it continues. Davis keeps up the energy, along with her band made up of big names like Sylvester, The Pointer Sisters, Neal Schon, Larry Graham, Merl Saunders, and Pete Sears. Tracks like "Game Is My Middle Name" show the strength of the band and backing vocalists as well, with a freak-out in the middle that really lets them rip.
John Doran wrote in his Quietus tribute to Betty Davis, who passed away earlier this year, "…If one takes her self-titled debut of 1973 and They Say I'm Different from the following year, visually they are a thrilling document of the times speaking as much to Afro-futurism, Black power, high fashion and New York street style as they do to sexual liberation." He hits upon so much of what Betty Davis crystallized in her work and her live performances. You can see how she brings her interest in fashion to her album covers and onto the stage as well. And while her lyrics convey overt sexuality, her performances were also indicative of sexual expression.
However, the mainstream public was not receptive to Davis' sexual liberation. Even though the seventies brought about second-wave feminism, the progress made in the movement benefited primarily middle-class white women. Davis' expressions of Black female sexuality were not welcomed in the same vein, her music banned from radio airplay and her record sales performing poorly. As Davis herself said in the documentary, Betty: They Say I'm Different, "Always white men behind desks telling me to change – change my look, change my sound…I needed to 'fit in,' or else no contract…I learned that stars starve in silence."
Betty Davis eventually faded into reclusion, the documentary a rare opportunity to "see" her, and even then she didn't show her face in the film. One might say that Davis was "too" ahead of her time, and she did predate the strides artists such as Prince, Erykah Badu, and Janelle Monaé have made since, while also projecting an eccentric stage personality alongside seventies stars like David Bowie. However, I'd rather say the times were behind her. Betty Davis was exactly the voice that liberation needed, but the public wasn't up for true freedom.
If you're into gritty, bold funk to play over and over again, Betty Davis is a solid choice you won't regret.
Favorite Tracks: "Walkin Up the Road," "Game Is My Middle Name"
PMG – PMG032LP, Austrian reissue, SEALED, $20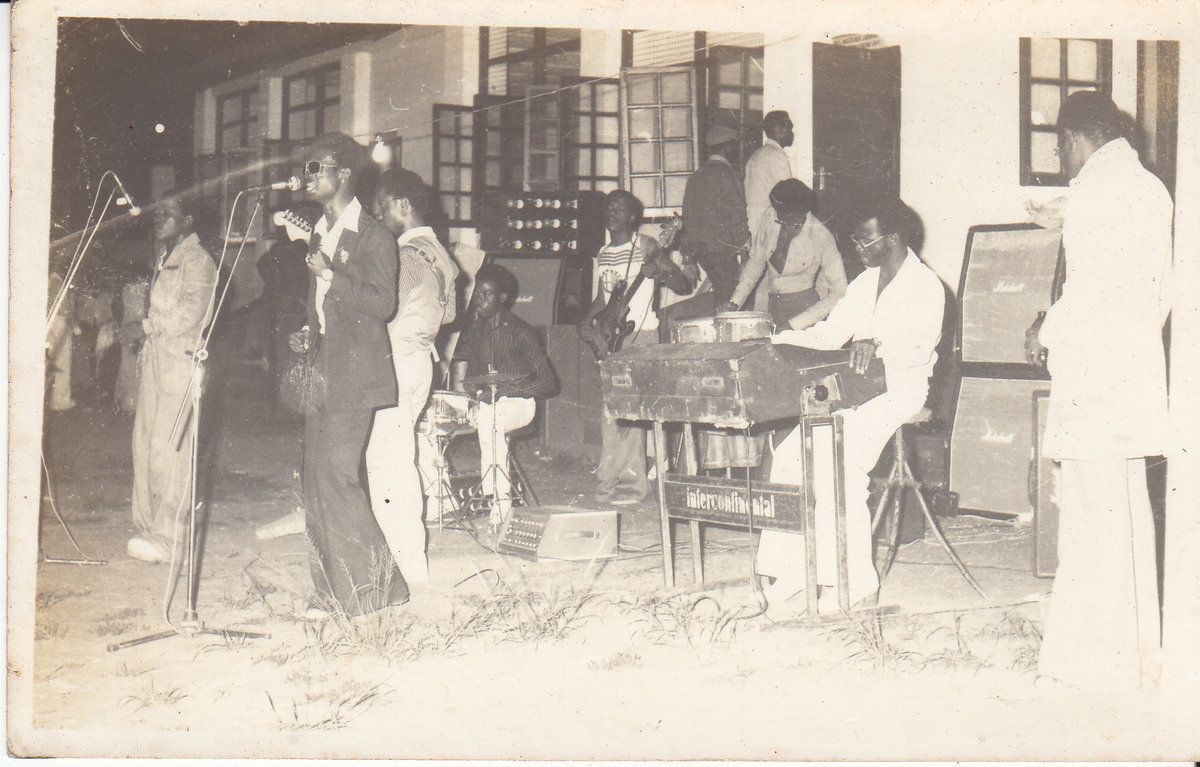 Music in Nigeria during the seventies was absolutely flourishing in the aftermath of the nation's civil war. The most prominent example is Fela Kuti, the innovator of Afrobeat who influenced more musicians than I can count. Starting in the early seventies, rock and soul boomed in the area that from 1967 to 1970 was a secessionist state called the Republic of Biafra. During the war, artists such as The Beatles, Aretha Franklin, James Brown, The Rolling Stones, and Otis Redding were very popular, and these influences can be deeply heard in the output that followed. Artists like The Funkees and The Apostles merged psychedelic rock, soul, and funk so seamlessly into completely original sounds.
Based in Aba in eastern Nigeria, The Apostles rose to prominence in the scene when The Funkees moved to London after touring there in 1973. That same year, The Apostles released a couple singles on the local label, BEN. Between 1976 and 1983, The Apostles released seven albums, many of which were under the EMI label. Their first three records, The Apostles, Black Is Beautiful, and Banko Woman were reissued by PMG in the 2010s, and the reissue of their self-titled debut is what we have here at the shop.
Full of psych jams, funky bass lines, and singable choruses, The Apostles is an engrossing album that is a super strong debut. It's no wonder EMI scooped them up and released their records for years. I'd say any psychedelic funk fans would enjoy jamming this record, but for anyone interested in psychedelic music from Africa (such as Zamrock), this album is essential.
Favorite Tracks: "Never Too Late," "Don't Worry"
---
Rare, single copies of People Are Together, Freedom Flight, Betty Davis, and The Apostles are available to purchase online and in the shop. Until the next 'Off The Wall', check out the hundreds of other items in our specialty items section online.
Resources
Tony Amadi, "Biafra Rock Music Scene Re-Enacted at Awka In 2017 by Governer Willie Obiano," Africa Music Online (2017)
"THE APOSTLES – The Apostles (1976) 2016," Bandcamp (2016)
John Doran, "Remembering Betty Davis And Her Legacy," The Quietus (2022)
Paul Lester, "'Heir to Hendrix' Shuggie Otis: 'I Could Have Been a Millionaire, But That Wasn't On my Mind,'" The Guardian (2016)
Korina Lopez, "Meet Shuggie Otis, Again," USA Today (2013)
Emily Lordi, "The Artful, Erotic, and Still Misunderstood Funk of Betty Davis," The New Yorker (2018)
Eric Luecking, "Mickey Murray: Lost Soul, And A Message Of Hope," NPR (2012)
"Mickey Murray," Sir Shambling's Deep Soul Heaven
– Hannah Blanchette
---
July 30, 2022 | News