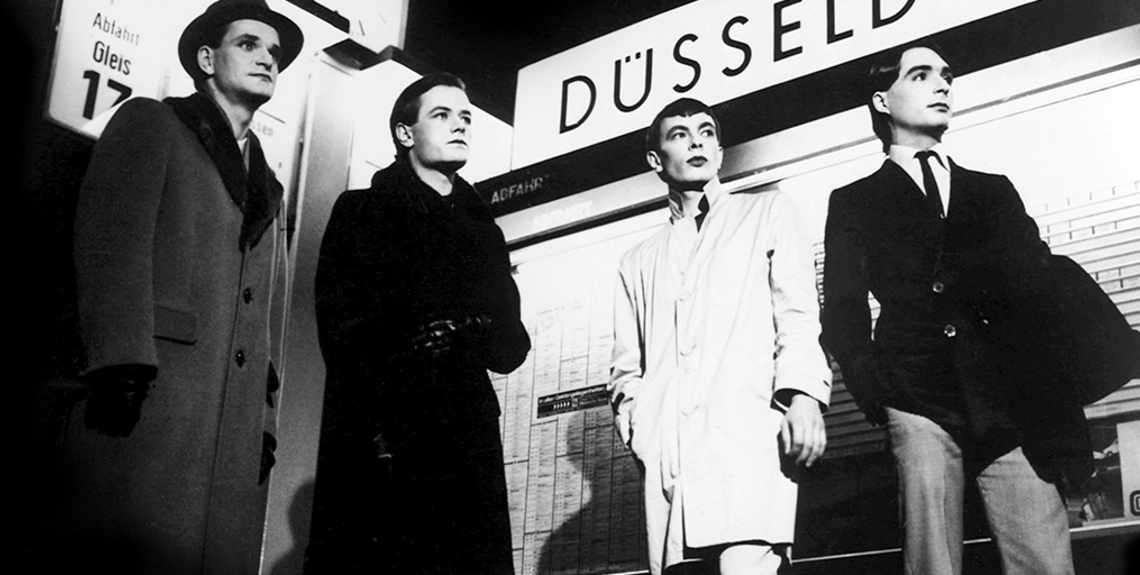 Krautrock: Germany's Post-War Sound from the Cosmic to the Minimal
In the aftermath of World War II, young German artists joined their desire for musical experimentation with cutting edge synthesizers and pursued a new legacy for German music.
Krautrock is a musical genre that originated in post-war West Germany, with its height from 1968 until 1974. Krautrock combined elements of rock, experimental, electronic, psych, and minimal musical characteristics, and often featured improvisation. Significant krautrock artists include Kraftwerk, Tangerine Dream, Can, Neu!, Cluster, Faust, Klaus Schulze, and Popol Vuh.
Part of krautrock's origins were in the late 1960s student counterculture in West Germany, which resisted Nazi legacy post-World War II. Krautrock artists took part in this by seeking to create German music that didn't rely on the characteristics of conservative German music or the pop trends of American music. As Dieter Moebius said, "we were a lot of the times on the streets instead of studying. As young people we were not very proud to be German…we were all tired of listening to bad German music and imitations of American music. Something had to happen."
The synthesizer played a huge role in developing krautrock, and vice versa: some of the most significant developments of synthesizer use occurred within krautrock. From the Minimoog's presence on Kraftwerk's Autobahn to the heavy use of the VCS3 on early Tangerine Dream albums, early commercial synths found their place on krautrock records. Synthesizers were especially important for creating the kosmische Musik (cosmic music) sound of some krautrock artists.
Initially, "krautrock" was a term coined in the 1970s by DJ John Peel and perpetuated by British press to derogatorily describe this music by West German artists, although it was one amongst many terms at the time. Over time, the term "krautrock" developed more positive connotations, although some artists still distanced themselves from the name.
Krautrock influenced many genres of music in the years following its height. In the late 1970s and early 1980s, Neue Deutsche Welle (NDW), "German New Wave," continued krautrock's legacy within the context of post-punk and new wave movements. And krautrock's impact on electronic music and post-rock is undeniable.
Kraftwerk on NBC's The Midnight Special, 1975
We currently have a bunch of new and used krautrock records in stock, including many titles by Kraftwerk and Tangerine Dream. Take a look below at what's available, and stop by the shop to find more krautrock gems on the wall or in the Psych/Prog/Krautrock/Proto-Punk section in the Rock row!
Krautrock In Stock
Shop Online
New LP
Brainticket – Psychonaut
Can – Live In Stuttgart 1975 (3 LP)
Can – Monster Movie
Embryo – Embryo's Rache
Emtidi – Saat
Faust – S/T
Günter Schickert – Überfällig
Guru Guru – Hinten
Guru Guru – UFO
Kluster – Klopfzeichen (Reissue) LP
Kluster – Zwei-Osterei
Kraftwerk – Autobahn
Used LP
Annexus Quam – Osmose
Brainticket – Celestial Ocean
Dieter Moebius – Nidemonex
Eloy – Inside
Faust – Just
Kluster – Klopfzeichen (1980 German Pressing)
Kluster – Zwei-Osterei (1980 German Pressing)
Kraftwerk – The Telephone Call
Moebius/Neumeir/Engler – Another Other Places
Tangerine Dream – Atem (1978 Japanese Pressing)
Tangerine Dream – Encore
Tangerine Dream – Le Parc (1985 Japanese Pressing)
Tangerine Dream – Ricochet [1982 Japanese Pressing]
Tangerine Dream – Cyclone
Tangerine Dream – Cyclone (UK Pressing)
Tangerine Dream – Rubycon (OG German Pressing)
VA – Cloud Cuckooland (Krautrock comp of Kuckkuck titles)
Shop In-Store
New LP
Kraftwerk – Live Koeln 3/22/75
Kraftwerk – Live Paris '76 / Utrecht '81
Used LP
Can – Monster Movie
Kraftwerk – Computer World
Kraftwerk – Trans-Europe Express
Kraftwerk – Autobahn (1974 Pressing)
Klaus Schulze – Body Love – Additions To The Original Soundtrack
Tangerine Dream – Encore
Tangerine Dream – Le Parc
Tangerine Dream – Poland – The Warsaw Concert (UK Pressing)
Tangerine Dream – Ricochet
Tangerine Dream – Sorcerer OST
Tangerine Dream – Tyger
Sources
Ulrich Adelt, Krautrock: German Music in the Seventies (Ann Arbor, University of Michigan Press, 2016).
David Stubbs, Future Days: Krautrock and the Birth of a Revolutionary New Music (Melville House, 2015).
John Twells, "The 14 Most Important Synths in Electronic Music History – And the Musicians Who Use Them."
-Hannah Blanchette
---
November 7, 2021 | News